The NMF will function as a one-stop resource for any school district in the country interested in developing motion-learning education. An influx of data on the benefits of exercise and cognition has inspired the National Math Foundation to expand beyond traditional school subjects and also focus on developing healthy lifestyles. The National Math Foundation endorses the Math & Movement™ program, which is based on research that suggests that moving during learning facilitates muscle memory, an important factor with younger children whose abstract thinking skills are not fully developed.
Information collected over the past four years from teacher observation reports shows considerable increases in letter, letter sounds, word, number, and color recognition among the participating classes.
Pre-school
A seven week study with UPK students found Math & Movement™ to be effective in increasing counting ability, number, letter and word recognition and the children's happiness with school and self! The program showed increases in understanding across a broad range of skills:
Download the Teachers' Observation Report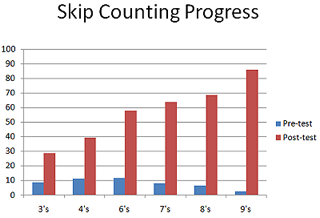 First Grade
In a classroom of first graders, after 18 hours total in an 8 week study, Math & Movement™ improved skip counting and multiplication skill, and increased math confidence! First graders improved their skip counting ability by more than 550%.
Download Full First Grade Report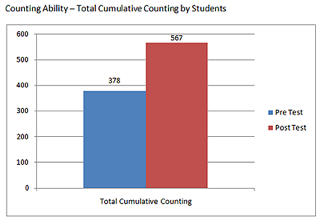 Second Grade
A four week study found a 50% increase in skip-counting knowledge, the students were engaged and had fun, and every student showed an increase in knowledge when tested!
Email for Full Second Grade Report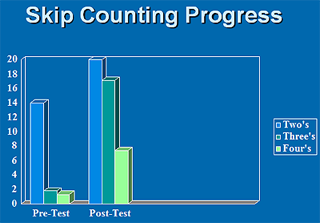 Why Math Fluency Matters, Even in Young Children
Basis for Further Learning
In a study of preschool classrooms, Vanderbilt University education professor Dale Farran reports that increasing the amount of time children spend engaged in instruction involving math conversation led to significant math gains. Read More!
In their widely cited 2007 study of large longitudinal data sets, University of California Irvine, education professor Greg Duncan and his colleagues found that in a comparison of math, literacy, and social-emotional skills at kindergarten entry, "early math concepts, such as knowledge of numbers and ordinality, were the most powerful predictors of later learning." Read More!
Career and Life Readiness
Research released in The Journal of Neuroscience reveals, "the way in which the brain is organized for single digit arithmetic calculation predicts performance on more complex math skills."[1] When brain imaging patterns in high school seniors were compared to Preliminary Scholastic Aptitude Test (PSAT) scores, high school students using "fact retrieval and fluency" areas of the brain did better than students using "problem solving strategies." Read More!
Why Movement Based Learning Matters
The Childhood Obesity Epidemic
This video presentation of the CDC Public Health Grand Rounds discusses efforts to reduce the obesity epidemic that now affects 17% of all children and adolescents in the United States. Read More!
Increasing opportunities for kids to move throughout the school day means less chance of obesity, Cornell University study says. Read More!
The Science Why Movement-based Repetition Supports Learning
Smart Moves: Why Learning Is Not All in Your Head by Carla Hannaford. Salt Lake City: Great River Books, 2005. Read More!
The Dominance Factor: How Knowing Your Dominant Eye, Ear, Brain, Hand and Foot Can Improve Your Learning, by Carla Hannaford. Alexander, N.C.: Great Ocean Publishers, 1997. Read More!
Processing speed and motor planning: the scientific background to the skills trained by Interactive Metronome® technology Susan J. Diamond, Ph.D. Dec. 2003. Read More!
The Science of Fun and Play
Play:
How it Shapes the Brain, Opens the Imagination, and Invigorates the Soul (Google eBook).
Stuart Brown, M.D., Christopher Vaughan – 2009 This book describes the essential role of fun in fueling our happiness and intelligence throughout our lives. Read More!