National Math Foundation's 'Moving & Learning Families Project' will equip 2nd-5th grade students and their parents/guardians with movement-based learning strategies, materials, and virtual training. This project will physically, mentally, and emotionally re-engage them in mathematics while at home.
Our project will provide 100 high-need students with kinesthetic learning materials for multiplication and division as well as virtual professional development for their parents/guardians over the course of 10 weeks.
Depending on the needs of your students, these sessions can happen either synchronously or asynchronously!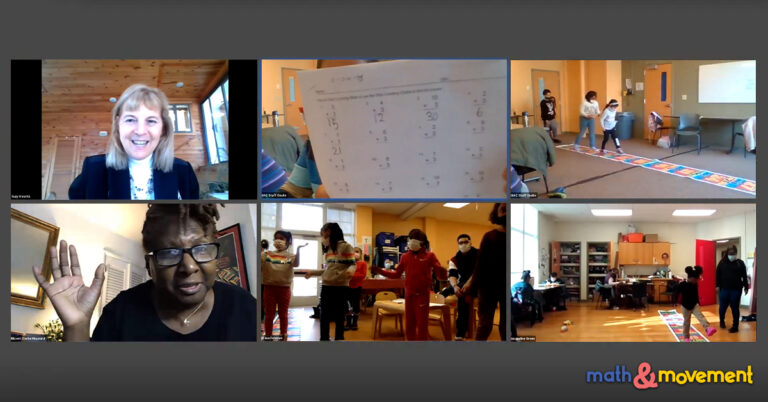 Why is the Moving & Learning Families Project Needed?
The COVID-19 pandemic has not only changed the way we educate our children, but it is also threatening our children's health and their confidence in math, specifically multiplication and division.
Multiplication and division are the mainstays for nearly every future mathematical concept that they will come across!
In addition to the academic concerns, students are not exercising while in school or at home. This lack of exercise has the potential to not only cause future health conditions like heart disease and obesity, but it also decreases immune cell function, which could pose a significantly direct threat to student lives during the global pandemic.
To be more effective learners, students need to be energized! They need to increase their focus so they can learn new skills and build the capacity for more complex concepts.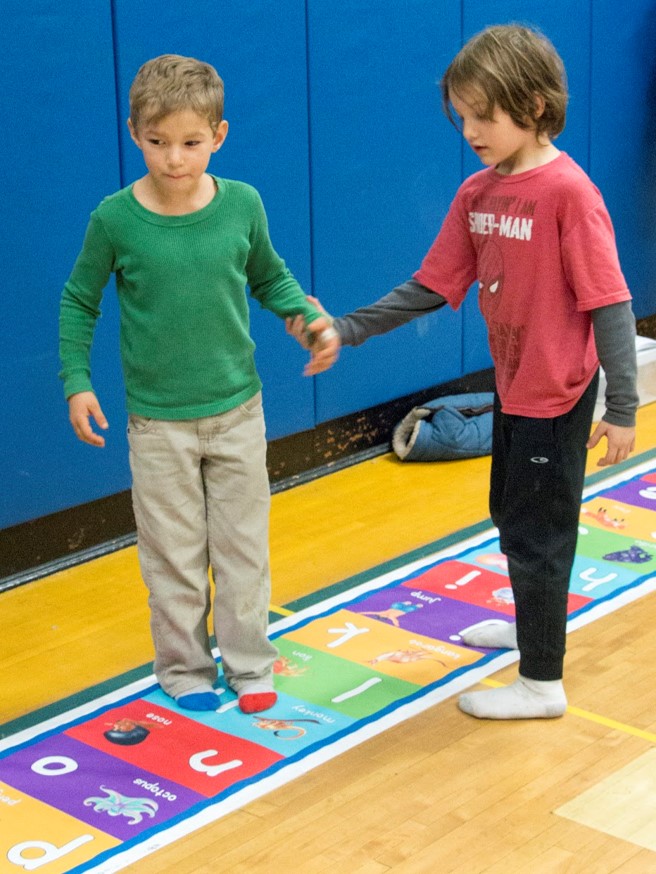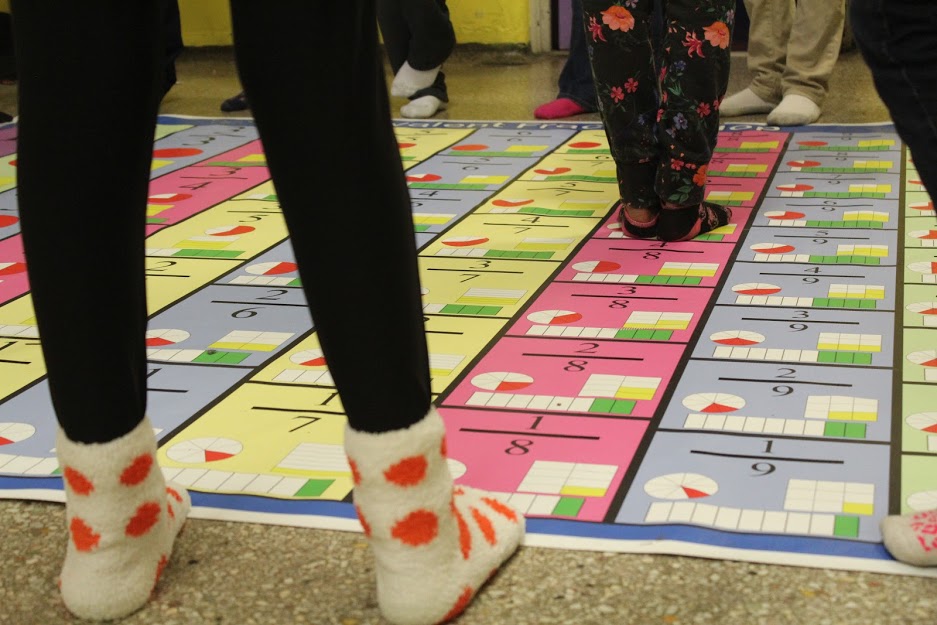 Because math is cumulative, success in core math concepts like multiplication is extremely important. Multiplication mastery leads to success with division, factoring, fractions, and algebra.
This project's unique, twofold goal strives to help both parent and child learn and grow together. This goal of helping parents learn math alongside their children increases parental engagement and support with their child's homework. Moreover, the training boosts confidence in their ability to use math in their own profession or find and enter a STEM career.
It is important that students do not fall behind in such fundamentally essential skills, and we cannot let students who are already behind, continue to fall through the cracks.
It is also important to remind parents/guardians and their children of their strength and resilience. 
Methodology - A 10-Week Hands-on Multiplication Mastery Course!
This project will support students' acquisition of multiplication skills in a distinctly remote setting, where families can practice with their children while they learn at home!
Initial Training (Week 1)
A one-hour virtual session will kickstart the program. During this session, students and their families will be trained on how to use the kinesthetic materials. By the beginning of the lesson, students will have received a number of kinesthetic learning resources.
Parents/guardians will have received hard copies of both the Math & Movement Training Manual and The 3's Book for extra practice. At the end of the first session, students will be eager to bring their materials home and practice what they've learned.
Subsequent Trainings (Weeks 2-9)
All subsequent sessions for the following 9 weeks will take place either at a local, partnering community center or at the students' homes virtually.
Each session will be 30 minutes and happen twice a week. 
The first 8 weeks will be dedicated to mastering multiplication concepts. The final two weeks will cover division and enjoyable algebraic concepts. In total, students will have had 20 virtual sessions over the course of 10 weeks. This gives students more than 20 hours of multiplication and division practice (including study time) outside of school!
Evaluations (Week 10)
Success will be evaluated by both pre- and post-testing of students, who will be asked to complete assigned workbook problems for one minute.
The results from these tests will showcase students' cumulative performance from the start of the project to its end.
All participants (students and teachers) will fill out an evaluation at the end of the program to identify what was successful and what could be improved.

Bonus Event - Family Fun Night!
An NMF 'Family Fun Night' can either start or end the 10 week program
Family Fun Nights give over 300 individuals, including families, community members, and older students the opportunity to learn together in a non-threatening and fun environment!
At the beginning of the 'Family Fun Night', volunteers are trained in how to lead the activities. During the remaining time, parents and children will move from station to station, learning the math activities while completing a kinesthetic activity guide.
Each 'Family Fun Night' strengthens math skills through enjoyable activities, and parents' confidence in tutoring their children increases.
The math skills of volunteers also improve!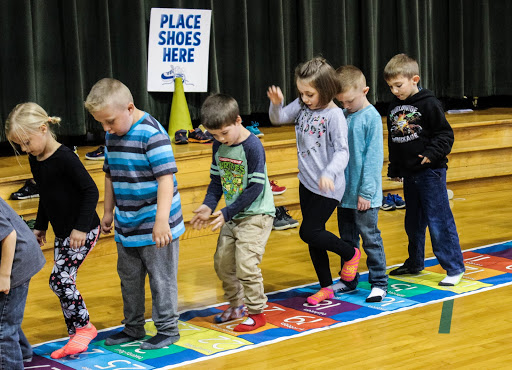 Student Resources
Parent Resources
Expected Outcomes - Increased Fluency & Engagement
Student Success and Wellness
The weekly virtual sessions will not only strengthen the mathematical fluency and confidence of participating students, but will also equip parents/guardians with the techniques and confidence to help their children succeed in math while learning from home.
DATA REPORT COMING SOON!
Parental Engagement in the Learning Process
Because each family will have new materials, it is also imperative they are educated on how to use them. Throughout the 10-week program, parents/guardians will be given the opportunity to attend weekly virtual training sessions. During these one-hour sessions, parents/guardians can ask questions about the week's lesson or the materials used to solve the problems.
Such an approach will guarantee that students and their parents/guardians are on the same page and can maximize practice time while minimizing misunderstandings.
Interested in Participating?
If you or your students are interested in participating or partnering in this project, please fill out our interest form below!
Our intent is for any donation or applied funding to be used as "organizational grants." These grants would provide funds for programs at local community/event centers that have families in need of additional educational support (i.e. activity centers, Salvation Army, 4-H programs, YMCA's, Boys & Girls Clubs, etc.). Through these grants, students and their family units will receive virtual professional development training, books, and kinesthetic materials.
If you or your teachers are interested in participating or partnering in this project, please contact [email protected] for more information!