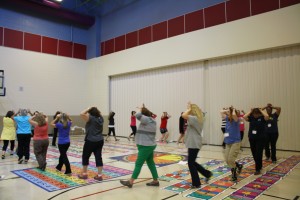 The National Math Foundation is looking for passionate educators who understand the value of kinesthetic learning and engaging the child through child-centered learning activities.
Location: 
Oswego, New York, August 7-10, 2017
Cost:
2 days: Aug 7-8 $295 Tuition/books + $50 registration fee=$345
4 days Aug 7-10 $495 Tuition/books + $50 registration fee=$545
Includes $300 in books and Common Core Lesson Plans
Housing:
Rooms will be blocked at a special rate Sunday, August 6 – Thursday, August 10. You will need to book your own room and make sure you ask for the National Math Foundation rate.
We recommend these two neighboring hotels on the waterfront and in the museum district:
Best Western Plus Captain's Quarters (Breakfast included)
26 E 1st Street, Oswego, NY 13126 US
Reservations: 844-558-6484
Quality Inn & Suites Riverfront (Breakfast included)
70 E 1st St Oswego, NY 13126
315-343-1600
There will be a daily lunch buffet rate payable in advance for you/your children (more info to follow).
Download the 2017 NMF Summer Institute brochure
Bring your children to learn!
4-day school-age youth program
$75 for the week includes instruction, games, prizes, shirts and books (featuring Math & Movement and MathEngaged!)
Includes tee shirt and books. LIMITED to 50 children. Meals not included.
To Register:
1. Go to www.mathmadefun.com/summer-institute/
2. Add product(s) to your cart. Make sure you are choosing the correct 2-day (August 7-8) or 4-day (August 7-10) option.
3. Follow instructions to purchase.
Purchase orders accepted. Follow above steps and choose purchase order option at checkout. Call 607-233-4209 with any questions.
MORE INFORMATION ABOUT THE SUMMER INSTITUTE
The Summer Institute programs for school teams will be held in conjunction with summer camps for K-5 students. Teams will have training in movement-based learning strategies, solve math problems to boost their own math ability and have the opportunity to reinforce their new learning through working with students. Additional Summer Institute topics include self-development, strategies for increasing parental involvement, grant writing, garden clubs, and wellness.
The NMF Summer Institute program goals are as follows:
Increase math skill level in elementary teachers.
Foster a love of math in elementary school teachers.
Boost student achievement in students who attend the summer camp.
Train prospective NMF Corps Members.
Collect data and evaluate student performance after one year of elementary school fully incorporating the Math & Movement program, healthy eating, garden clubs, running programs and other programs supported by the National Math Foundation.
Learn how the NMF Corps Members would best assist classroom teachers.
BENEFITS OF ATTENDING THE SUMMER INSTITUTE
Have Loads of Fun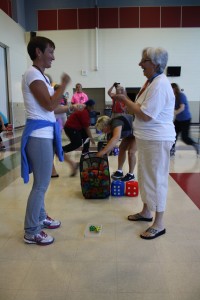 You will be a part of an enjoyable, fast-paced week of engaging, fun, kinesthetic, math activities. You will soar to higher levels in mathematical confidence, understanding and enjoyment.
You will learn kinesthetic teaching techniques, collaborate with NMF participants on developing activities and actively engage in the math learning.
Have Time for Collaboration
After extensive training in the existing Math & Movement strategies, you will collaborate to identify existing best-practices for kinesthetic learning and to build a repertoire of movement-based learning activities applicable to individual students. Your contribution is crucial. During the institute, you will have opportunities to share best practices and creative ideas which will enrich and strengthen the movement-based learning programs for all the schools.
Integrate New Learning with Practice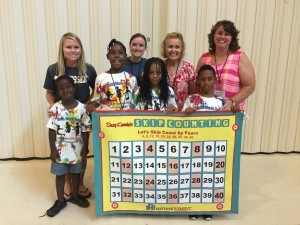 The NMF Summer Institute training will integrate professional development with opportunities to teach children. The Summer Institute will work in conjunction with local day camps to provide young learners for our teachers to practice.
Self-Development &         Miscellaneous Topics
Additional topics include gratitude, positive thinking, integrity, creating a positive school culture, the benefits of exercise, and movement-based learning, health and overall wellness, increasing parental involvement and beginning a school garden.
Meet our Corps Members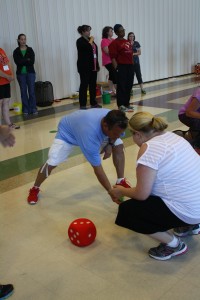 You will have the opportunity to meet potential National Math Foundation Corps Members. Our NMF Corps Members (recent college graduates) will serve in one elementary school for a two-year period as teaching assistants. Throughout the school day, Corps Members will assist teachers in a variety of tasks based on the goals of the teacher. Tasks may include offering differentiated instruction for small groups of children, managing parent and community volunteers or leading the entire class of students in movement-based learning activities.
During out-of-school hours, NMF Corps Members will work to create a community environment that supports rapid math learning. As funding permits, individuals accepted in the Summer Institute will have the first opportunity to invite a team of three NMF Corps Members to join their school. Providing a salary for NMF Corps Members to work in schools is a primary goal of the National Math Foundation.
Learn New Strategies
You will learn high-impact strategies for
Strengthening your students' math and reading ability.
Boosting your students' understanding of "hard to learn" math concepts including telling time, place value, money, Cartesian coordinates, multiplication, division, factoring, odd/even numbers, algebra and fractions.
Increasing math-confidence in students.
Supporting risk-taking in problem solving.
Helping your students achieve mastery learning in ALL math concepts.
Utilizing Math & Movement as "energizers" to wake-up the sleepy brain before school, throughout the day, during transitions and after-school.
Increasing critical thinking and problem solving ability.
Meeting the Common Core State Standards.
Increasing the health and well-being of your students.
Improving classroom management and reducing/eliminating misbehavior.
Boosting math retention.
Increasing focus, concentration and attention-span.
Reaching the kinesthetic learner.
Supporting students with special needs.
Decreasing the cost of RTI, and auxiliary services.
Maximizing learning readiness in students.
Increasing parental involvement.
Teaching your students about gratitude, positive thinking, integrity, and community service.
Promoting a positive school culture.
Utilizing the support of NMF corps members as teaching assistants.
Maximizing the help of parent volunteers.
The goal of the National Math Foundation is to secure grant funds to provide $2,000 of Math & Movement Materials – the Clock Hop Floor Mat, the Add/Subtract Floor Mat (Hundred Number Grid Mat 1-100) and seven Skip Counting Hopping Floor Mats (Numberline Hopping Mats for 2's, 3's, 4's, 6's, 7's, 8's, and 9's) – for all teachers who attend the Summer Institute. If you have interest in grants for these materials, then, after paying the program fee, please proceed to steps 2-4 to complete your application. 

Purchase orders are accepted. There is an option to pay with a purchase order on the payment screen. Please fax POs to 866-407-1154.
Your early registration and payment helps us to reach additional potential funders. NMF is committed to supporting your school in fully implementing the movement-based learning for math, literacy, science, and social studies. Participants who attend the Summer Institute will have our continued support in locating and securing funds to provide your school with the Math & Movement math, literacy, science and social studies learning materials. We will do this by writing grants for your school, supporting your efforts with grants, or collaborating with organizations to offer unique fundraisers for your school to obtain needed materials.
Presenters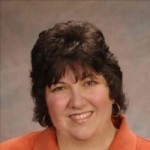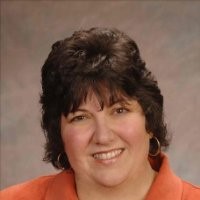 Cara-Leigh Battaglia  holds a B.A. from Nazareth College in Rochester, NY (English/Professional Writing/Communication) and an M.S. from Radford University in Radford, VA (English/Teaching Composition). She has an extensive and diverse background in fundraising, marketing, education, and business development. She has held management and executive-level positions in non-profit and for-profit businesses, founded several businesses and organizations, and served as a professional consultant for over 30 years. As an educator, she embraced non-traditional methods in elementary and secondary level classrooms, and has taught as an adjunct and assistant professor at the college level.  She serves on several boards of non-profit organizations, including The Motherhood Foundation.
Suzy Koontz is the founder of Math & Movement™. Her passion to extend an enjoyment of math to students nationwide has led to the development of the Math & Movement™ program and the establishment of the NMF. With a Bachelor of Science in Mathematics from Wheaton College, a Master's in Statistics, and a career as an Actuary Associate, Koontz is a highly-qualified instructor.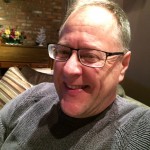 Eric O'Brien is a retired elementary teacher from Long Island. A specialist in mathematics education, Eric energizes any classroom with his passion and his ability to empower students and teachers alike. After working with Eric, you will see mathematics in a whole new light.

Mary Curcio