If you are a parent or student who is interested in getting involved with the National Math Foundation or the Math & Movement program, we have a number of resources for you!
Online Learning & Practice – For School-Age Students
Follow this link to access free quizzes and learning activities to practice your mathematics and reading skills!
Around the World in 80 Math Problems! – a High School Internship Program
In the works! Check back soon for more information!
NMF Internship Program – For College Students
The National Math Foundation is seeking grant research and grant writing interns for the end of 2021 and the start of 2022. Students, teachers, and/or educational professionals who are interested in interning for the NMF and receiving hands-on experience researching and writing educational grants should consider applying for this unique and applicable program. 
The internship will take place remotely/virtually (via phone and Zoom platforms). We ask that interns expect a time commitment of a minimum of six hours per week. 
At this time, the National Math Foundation is unable to pay summer interns for their services, yet there are a number of benefits to becoming a National Math Foundation summer intern. After a discussion with your institution, we can offer school credit hours for your internship hours!
This internship includes:
Comprehensive, hands-on training in all aspects of researching grants and grant writing
Practical experience in a variety of professional roles, including (but not limited to!) social media marketing, public relations, community outreach, educational research, grant writing, accounting, teaching, graphic design and website management, product development, project management, event planning, and more!
Opportunities to combine one or more of your professional interests into a highly personalized internship
Flexibility of work location and hours (You may work remotely or at our office in Ithaca, NY)
Multiple Professional Development (PD) hours
NMF Internship Certificate and opportunities for signed Letter(s) of Recommendation upon completion of the internship program
Choice of kinesthetic floor mat (for classroom teachers only) 
The National Math Foundation's volunteers and staff are passionate about improving education and inclusivity for all, regardless of students' age, race, socio-economic class, and gender. We will provide a positive work environment where you can expect to receive positive feedback and honest suggestions for improvement from our highly qualified team. The National Math Foundation is growing quickly, so this program is an opportunity for you to contribute directly to the expansion of a nationally renowned public charity and to our mission of supporting educators nationwide with innovative programming and research. Upon completion of the summer internship program, consideration for one of our foundation's paid positions is highly likely.
Required Skills and Experience:
General computer and virtual navigation skills
General research skills
Writing/verbal communications skills
The ability to multitask and consistently meet deadlines (Monday-Friday availability is necessary)
The ability to work with others in a team setting
The ability to work individually and, in turn, organize and manage your time effectively
A willingness to learn new things! 
If you would like to apply for this program, please download this application.
If you have any questions or are interested in becoming a NMF intern, please contact [email protected]! 
Online Quizzes and Learning Activities
Follow this link to access free quizzes and learning activities to physically engage your students in mathematics and reading!
Stenciling Projects
We partner with schools, communities, and community centers to use stencils to paint math patterns on school playgrounds, sidewalks, in parks and playgrounds, and other key locations around your town. These stenciling projects allow for many volunteers to work together to paint their community with interactive math practice!
The main advantage of the stenciling project is to increase students' access to numbers. Throughout the year, in all seasons, during the school day, after school, or during school vacations, students will be able to jump on the stenciled math patterns, use the stenciled numbers to solve math problems, and demonstrate to their parents the many uses of the stenciled math patterns!
Please check out the following video to see one of these stenciling projects in action!
Buddy Projects
Math & Movement programming targets individuals in pre-K through fifth grade, but the benefits extend far beyond this age group. As students move through the curriculum, they can become "buddies" by tutoring younger children. In addition to building camaraderie, explaining math, physical activity, and nutrition concepts will (1) help solidify older students' understanding and (2) develop key communication skills that they can carry through to their other studies.
Buddy programs allow for enjoyable, non-threatening math practice for older students because the older student must fully participate in the activities he/she is using to teach the younger student. Math requires significant practice for proficiency just as reading requires practice and repetition. 
According to Sheila Tobias, author of Overcoming Math Anxiety, more than two-thirds of adult Americans suffer from math anxiety. These anxieties begin in elementary school with an uncomfortable feeling about math. Buddy projects provide some of this necessary extra math practice time for both groups of elementary students. 
If you have a child who is learning basic math and reading skills, get their older sibling involved if possible! It's never a waste of time to revisit the basics, and this type of collaboration fosters a strong sense of belonging and success for all students involved!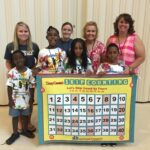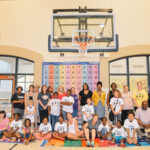 If you have any questions about these projects, or how you can implement them at your home or school, please contact us at [email protected]!
Learn About The American Rescue Plan
The federal government is sending funds to schools to help students get back to grade-level due to the COVID-19 pandemic. To learn more about how you can help to get those funds to the right places, click the link below.