In partnership with like-minded educational organizations, the National Math Foundation has hosted a number of virtual webinars and professional development sessions for educators, administrators, parents, and community leaders. The National Math Foundation is adapting to the reality of COVID-19, and we recognize the new troubles it brings for young students, teachers, and parents nationwide, which is why we have committed to expanding our curriculum and materials to virtual platforms in order to reach and educate as many people as possible about the necessity of kinesthetic learning.
If you are interested in participating in a workshop, please see the following opportunities below and visit our "Calendar of Events" to register! We will continue to update this page with new PD opportunities, so please check back for more information!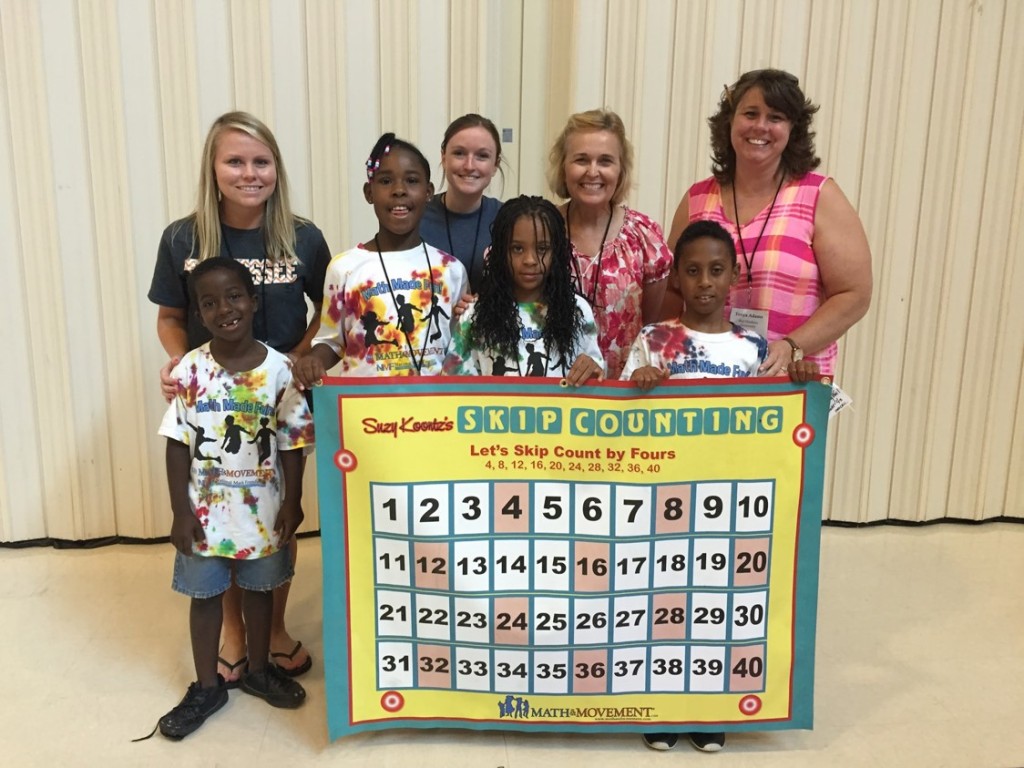 ---
In the Spotlight
Trauma and Learning: Using Movement to Support Students with Adverse Childhood Experiences
Presenter: Suzy Koontz from Math & Movement
A landmark study by Felitti and Anda found that 67% of the US population has one or more ACE (Adverse Childhood Experience). Students with ACEs come from every socio-economic class, culture, and ethnicity. The likelihood that one of your students will have one or more ACEs is high. The current pandemic has stock-piled more potential ACEs for your students. These may include food insecurity, death of a loved one, parental addiction to drugs/alcohol, divorce, or loss of income for one or more parents. In addition, new family stressors may include parental inexperience with teaching their child, isolation, stay-at-home orders, or future economic uncertainty. The difficult truth is that students with Adverse Childhood Experiences (ACEs) usually find traditional learning environments unsuitable for their needs.
This 6-part virtual training includes:
the background on ACEs and toxic stress,
brain research,
the damaging consequences for students with ACES.
the appropriate role of the educator, and
innovative strategies to calm students and help them learn.
Target Audience: Educators of students PreK through fifth grade who are curious about ACEs and the ways movement-based learning can be used to increase learning.
Please note: this is an introduction to ACEs and trauma-based learning. If you have had detailed training in ACEs, this course may not provide new information for you.
(will direct you to the Math & Movement Website)
---
Kinesthetic Strategies to Boost Math Outcomes
Presenter: Suzy Koontz from Math & Movement
This interactive presentation offers kinesthetic strategies that support the modules, build number sense and critical thinking, and increase a student's fluency and ability to focus and understand. All participants will receive the Math & Movement Training Manual ebook. Attendees will receive a 1-hour professional development certificate (to be approved by your district for continuing education credit). The Math & Movement program is aligned to most state standards and linked to the common core.
We understand the challenges of coming up with new ways to present materials. We want to present you with new content and ideas that you can use in your classroom, online, or during home instruction. You will learn new strategies for increasing student engagement, making math fun, teaching kinesthetic learners, building number sense, and bringing the joy of learning back into the classroom!
Target Audience: Educators and Parents of PreK-5th grade students
(will direct you to the Math & Movement Website)
---
"Moving as we Learn: How We Are Boosting Student Achievement and Wellness Across the Country"
Presenter: Kirby Schoephoerster from the National Math Foundation
In this webinar, we will go into detail about our foundation's mission and curriculum, Math & Movement. We will explore the research behind kinesthetic learning as well as share a number of our previous, current, and future projects across the country. We will also share the steps you can take to get involved as fellow supporters of hands-on learning
Target Audience: Educators, educational administrators, nonprofit partners/sponsors, potential collaborators
---
"Virtual Grant Writing Seminar for Educators"
Presenter: Kirby Schoephoerster from the National Math Foundation
Our goal for this virtual seminar is to provide teachers with the skills and confidence they need to find and acquire resources for their classroom and school. We will accomplish this goal by offering participants research-based techniques hands-on guidance in (1) researching and identifying potential grantors, (2) organizing and crafting grant projects, and (3) efficiently submitting grant proposals.
Participants will learn the 'ins and outs' of the grant writing process in a distinctly educational context. Each participant will have an opportunity to demonstrate their learning through both guided and independent practice. Although the process of writing grants seems daunting, it shouldn't have to be difficult, especially for teachers! 
Target Audience: K-12 Educators
Learn About The American Rescue Plan
The federal government is sending funds to schools to help students get back to grade-level due to the COVID-19 pandemic. To learn more about how you can help to get those funds to the right places, click the link below.