The National Math Foundation's primary objective of the Moving & Learning Families Project is to provide COVID-safe education and wellness tools to local teachers throughout the country; these materials and this training will enrich students' abilities in building their foundational understanding of math and literacy concepts while simultaneously burgeoning their confidence in their math and reading abilities.
Through this project, students will build number sense, reading fluency, and their test scores will reflect their success in both the virtual and in-person classroom!
Bouncing Back to Math and Reading Fluency!
As a result of fixed mindsets, threats to their physical health, and decreased opportunities for physical activity, students across the country have fallen drastically behind in their comprehension of – and confidence in – fundamental math and literacy concepts. We must provide additional support to our young students who are threatened by the COVID-19 pandemic and who are struggling to learn math with ineffective learning modalities in hybrid classrooms!
Math and reading can be quite daunting, but it doesn't have to be! The activities and training in our program help students master concepts while simultaneously offering teachers and students an overall sense of physical, social, and emotional well-being.
This project supports the complexity and imaginative nature that defines every student.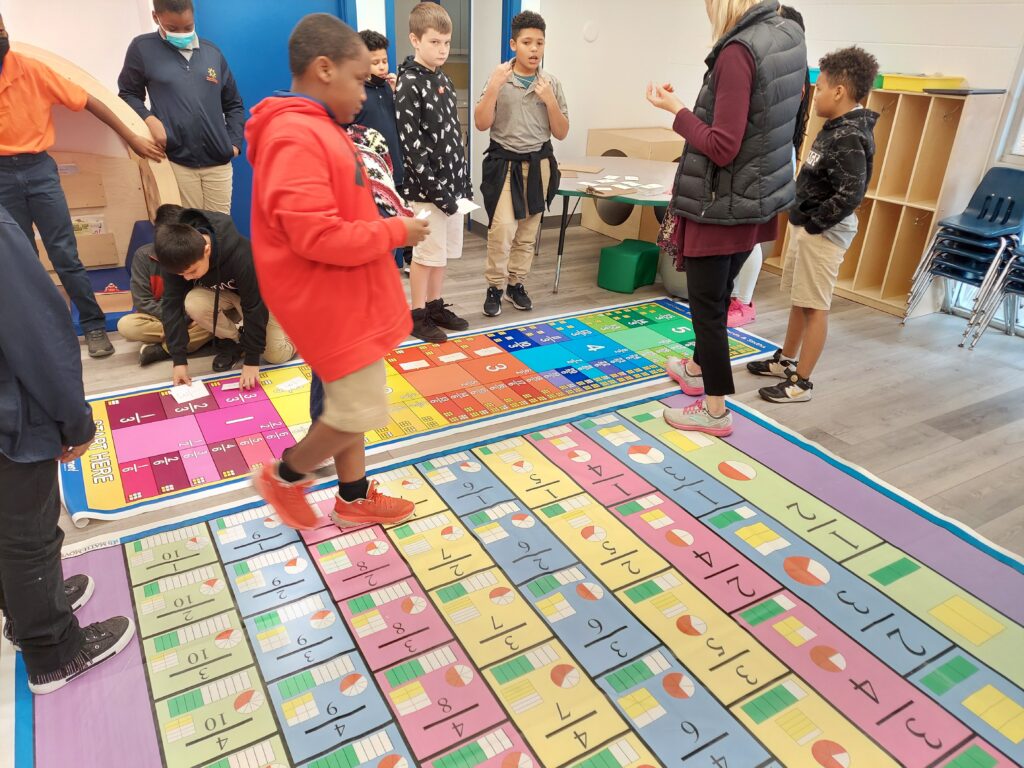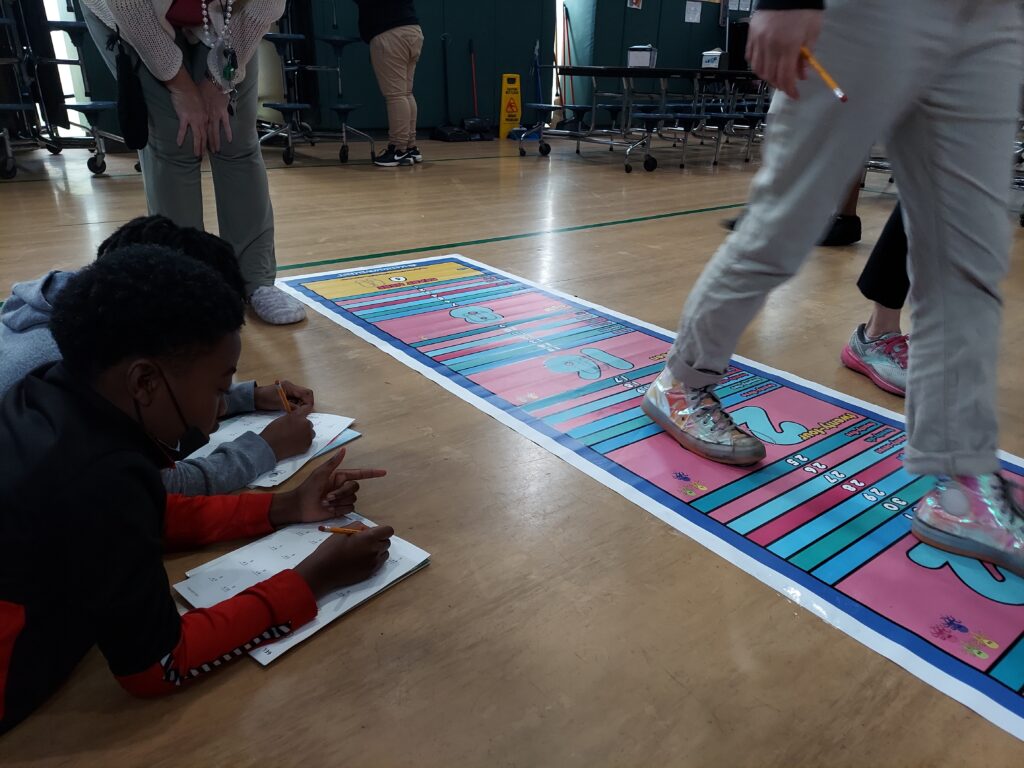 This movement-based program will increase student achievement and overall student success. It will improve assessment scores and increase students' self-confidence. Students will also become physically active on a daily basis, which will, in turn, increase their mental and emotional health. 
The evaluation of student success on the kinesthetic learning tools will require little to no extra involvement on the part of the teachers. Each teacher will be trained in how to properly use the materials as early as possible. Teachers will understand what success looks like on these materials. 
 Teachers will see these outcomes quickly once the program is implemented!
Provided Materials and Resources...Customizable!
Through participation in this program,schools have supplemented their instruction with math-focused materials/resources, while other districts – for example – have overhauled their ELA programs to include daily movement-based activities. In short, how the Moving & Learning Classroom Project will look for you and your school depends greatly on the needs of your students and the capacities of your school/district.
We recommend filling out the Interest Form below for specific information about materials and resources available through your participation in the project!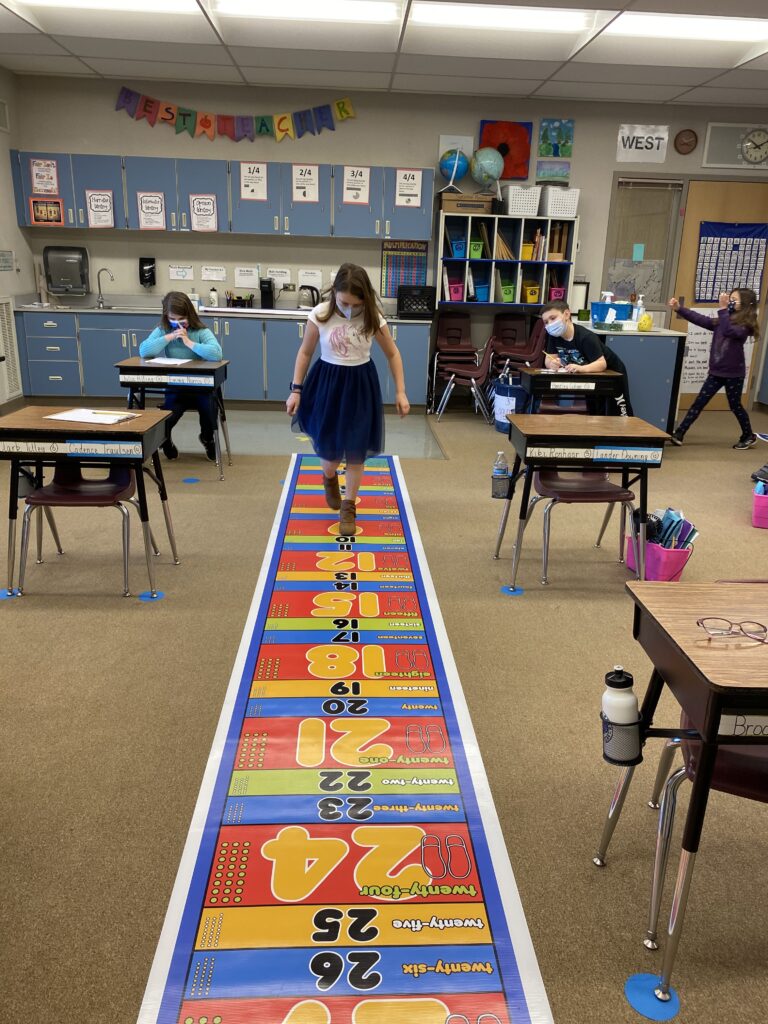 Children learn in so many different ways and for elementary age children, movement is one of the best ways!  My students, especially "my students who are struggling, have thrived this year in Literacy and Movement class!  I have seen an increase in scores, but more importantly, a love of learning!"
—Ms. Hendrickson, Third Grade Teacher | Merit Academy
"I have seen incredible growth from my students. The hands-on approach, breaking down the steps, and repetition make the learning fun and tangible for my students."
—Ms. Hanson, Fourth Grade Teacher | Merit Academy
"Math and Movement has helped me in many different ways.  It has helped me not be so shy and it has made me smarter.  I love Math and Movement.  It is so fun!"
—5th Grade Student | Merit Academy
"This is absolutely something I am excited to use in my classroom this year!"
—Project Trainee | Lackawanna City School District
"I learned concrete ways to make math energetic and fun while being appropriate for the grade I'm teaching."
-Project Trainee | Lackawanna City School District
Our intent is for any donation or applied funding to be used as "classroom grants". Through these grants, teachers will receive virtual professional development training and kinesthetic materials for their math classroom.
If you are interested in supporting this project through a donation, please navigate to our "Donate" page! Thank you for your support!
Interested in Participating?
If you or your teachers are interested in participating or partnering in this project, please fill out our interest form below.