Support a national charity and your school at the same time!
Make Your Next Fundraiser an Official National Math Foundation Math-A-Thon!
Math & Movement is one of several programs endorsed by the National Math Foundation (NMF), but the only program endorsed nationally. We also support school fundraiser initiatives that keep the NMF growing and supporting schools and children!
Math-a-thons are the go-to fundraiser that NMF uses to raise funds for teachers, students, and schools who want to participate in NMF-related projects and bring Math & Movement materials into their classrooms. The funding goals for each school-based project are detailed below. Click project name for more details.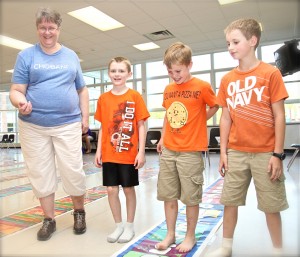 | Project | Funding Goal |
| --- | --- |
| | $175 [per participating family/classroom] |
| | $245 [per participating teacher] |
| | $1,000 (includes skip counting materials) |
| | |
All funding raised by the Math-a-thon will go towards supplying your school with the training and kinesthetic learning materials to make your project a success!
If your school is interested in participating in our ongoing projects and would like to utilize a NMF Math-a-thon to raise funds, please fill out our Math-a-Thon Interest Form and we will forward you additional information about the project and a Math-a-thon Guidebook that details different ways you can customize your Math-a-Thon to meet the needs of your students!
If you have any questions about NMF Math-a-thons, our projects, or would like to learn more about what we do, please contact us at [email protected]! 
Fill out our

Math-a-thon Interest Form

You will receive a follow-up email with the Math-a-thon Guidebook as well as additional information about the program you selected. You will also receive flyers that you can share with local foundations and organizations that plan to contribute to your Math-a-Thon. 
Further consultation about the fundraiser (if needed) can be initiated by contacting [email protected].
Fill out our math-a-thon interest form to receive more information.